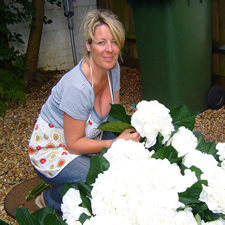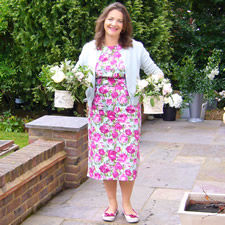 Jax and Kate - Friendly and affordable designers providing gorgeous flowers for weddings and events in Surrey, Hampshire, Sussex and Berkshire.

The Gorgeous Flower Company is owned and managed by Kate Osborne, who has been growing, picking and arranging flowers since she could barely walk.....
Kate says: My mother was the most extraordinary gardener, we were an army family and moved frequently but wherever we set up camp the garden became her lodestone and delight. My earliest memories are of the sound of bees, the scent of old fashioned roses and wallflowers, playing with snapdragon heads and making rather murky scent out of rose petals and daisies. Later my mother taught me to arrange flowers and I started to learn, first from my family, then friends and finally professional teachers: The "living treasure" who taught me Ikebana in Tokyo, which I followed with a stint at the Sogetsu school in New York. Later I studied at evening classes at Merrist Wood and with one on one masterclasses but mainly I have learned from experience. My background in journalism and marketing has also been useful, together with years of experience organising events for a local hospice charity.
I am incredibly lucky to have a fantastic team to support me. Jax Arnold whose mother and grandmother were florists and with whom I started The Gorgeous Flower Company in 2008. Jax is still fantastically supportive but is also studying art and is on her way to becoming a serious (and extremely talented) artist. The other members of the team hold a myriad clutch of floristry diplomas between them and years of accumulated experience, together with qualities that cannot be learned - A natural flair for design, extraordinary attention to detail and a sweetness of disposition which makes them a pleasure to work with!
The Gorgeous Flower Company have designed wedding and event flowers for many prestigious venues in Surrey and the South East including:
| | |
| --- | --- |
| Clandon Park | The Conservatory at Painshill |
| Clock Farm Barn | The Royal Grammar School's 500th Birthday Ball |
| Gorse Hill | Guildford Cathedral grounds |
| Horsley Towers | Great Fosters, Egham |
| Loseley House | Langshott Manor |
| Ramster | The O.B.E Chapel at St. Paul's Cathedral |
| Bury Court Barn | Langrish House Hotel |
| Gate Street Barn | Denbies Wine Estate |
| Upwaltham Barns | Many private homes and marquees |
| Botley's Mansion | The Talbot, Ripley |
| Cain Manor | Pennyhill Park |
| Northbrook Park | Cain Manor |
| Rivervale Barn | Hurtwood Polo Club |
| Coverwood Lakes | Rumbolds Barn |
| Elstead Mill | Bank of England Sports Ground |
| Barnett Hill | |